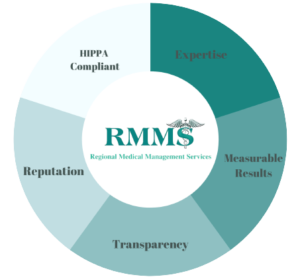 Based in Delaware and established in 2012, Regional Medical Management Services (RMMS) identified several challenges that are facing doctors and centers. Most providers offer similar solutions and services, but we provide you with an effective, inexpensive, one stop shop for all of your needs at cost.
Our knowledge and understanding of what it takes to provide you with a successful business will help you deliver the quality care that your patients come to you for and help you meet your financial goals as a practice. It takes the best care provided to your patients as well as being able to perform at the best capacity financially, in order for your business to thrive. RMMS can aid you in collecting what you've earned so that you can enjoy the benefits of running a respected and successful practice.
Customer service is a necessity at RMMS. We will provide you with the professional and personalized care that you have been looking for. The level service provided by our staff, is only usually seen with in-house operations, because at RMMS we take the time to get to know you and accurately understand the ins and outs of your business.
When you choose RMMS you are partnering with a like-minded company with the same goal of making sure that your business is successful.

5 Things to Look for in a Medical Billing Company
You have to outsource wisely, of course. Who you choose as a partner will significantly impact your financial health and independence. Here are five factors to consider when selecting a medical billing service provider:
1. HIPAA compliant
You have a direct responsibility to address healthcare privacy and security. By outsourcing to an experienced company with HIPAA (Health Insurance Portability and Accountability Act) compliance, you get peace of mind knowing that the company's practices ensure the confidential handling of a patient's health information as well as the protection of their legal rights. In addition to HIPPA, your outsourcing provider should uphold other laws, medical regulations, and guidelines. This helps you adhere to high standards of care, ethics, reduce exposure to fraud, and improve your revenue cycle overall.
2. Reputation
In any type of business, you only partner with people you can trust. This is why reputation means everything and a complete and comprehensive background check is necessary. The first step is narrowing the playing field to find a suitable company, then begin doing your research. Ask trusted colleagues for referrals. Ask medical professionals because you are more likely to receive reliable information from a trusted source rather than anonymous consumer reviews online.
3. Transparency
Even if you've already outsourced your medical billing process, you still want to know the status of your claims. It's still your business, after all. Your billing specialist must provide you with regular and transparent reports that reflect what they've been handling on your behalf. This does not mean having to micromanage but instead overseeing the billing process to ensure efficiency.
4. Expertise
You want billers with expertise in your specialty to ensure correct billing. Whether you are a big city hospital, a rural hospital or a private practice specializing in pediatrics or cardiovascular health, you will have billing and coding challenges unique to your facility and specialty. This means you will need someone who knows your facility's coding, compliance, and documentation requirements. Otherwise, you may suffer from coding inaccuracies, claim denials, and low cash flow, defeating the purpose of outsourcing in the first place.
5. Measurable Results
By outsourcing medical billing, you can achieve a more controlled approach to revenue cycle management. This proves to be more sustainable because when your medical billing process is up to date, efficient, and free of human error, you can receive payments in a shorter amount of time. If you also have transparency from your medical biller, the comprehensive performance reports will keep you informed of critical financial numbers. This also means you maintain control of your revenue cycle management without having to perform the tasks yourself.